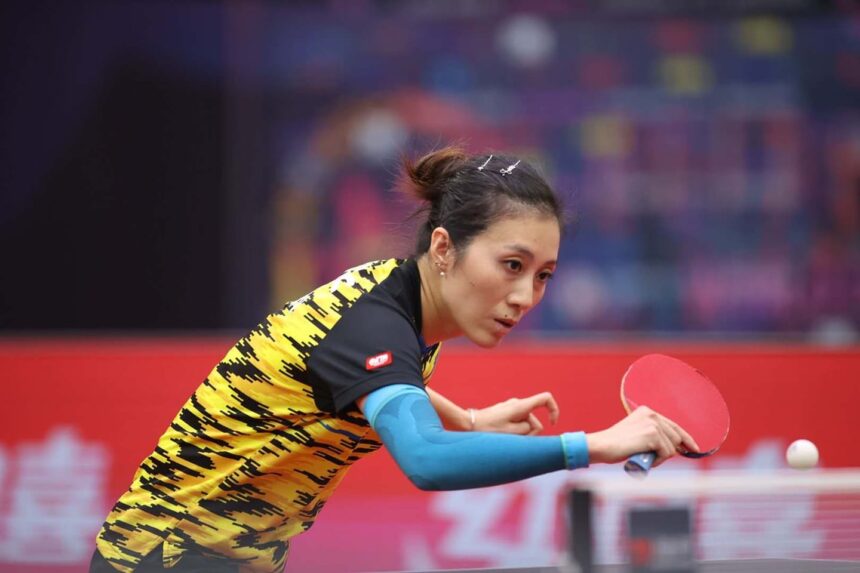 Ying Han

Germany
Ranking
Bio
Career
Equipment
Videos
Ying Han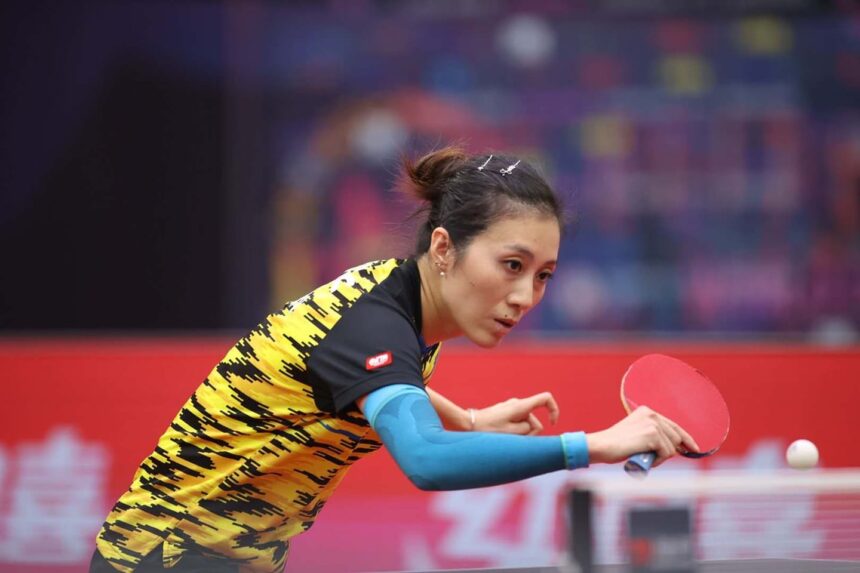 Germany
Ranking
Bio
Career
Equipment
Videos
Han Ying is a female German table tennis player of Chinese origin. She was born in April 29, 1983 in Liaoning, China. She is one of the few top defensive players remaining and is notable for her defensive chopping playing style, a tactic she adopted after her father convinced her to switch from being an attacking player.
When using this defensive shot, a player chops the ball consistently with variations of underspins and waits for the opponent to misread the spin.  You mainly take it while standing back from the table and if you produce heavy underspin, the loop by your attacker tends to be less aggressive.
Let us take a closer look at Han Ying table tennis equipment, her journey to success and her major wins in various competitions.
Quick Facts
Place of Birth
Shenyang, Liaoning, China
Biography
Han Yang developed her chopping style while playing on her provincial team in the 1990s and then moved overseas to seek better career opportunities that would make her realize her goal of competing at Olympic Games and World Championships. Currently, Han is among the top players in the ITTF rankings, a great improvement from the 22nd position she mostly held in previous years.
Early years
Han Ying started playing table tennis as a child. In the beginning, Han Ying was an attacker before she became a defensive player at her father's persuasion. According to Han, there were limited spots for defensive players in the China National Table Tennis team and little to no opportunity for defenders to play in international tournaments since attackers were more popular in China. Consequently, Han Ying relocated to Germany at the age of 19.
First competitions
After moving to Germany in 2002, Han Ying played table tennis for Turnvere club in Busenbach for three years and made it to the ETTU Cup final in 2004. She then transferred to the MTV Tostedt in 2005 where she played for the club until 2012.
In 2010, Han became a naturalized German citizen. In March 2011, she came in third in Women's Singles at the German Table Tennis Championship and won in the Women's Doubles with her teammate Irene Ivancan. Later that year, Han Ying won the Women's singles in the Bundesranglistenturnier tournament.
She gave birth in 2012 and took a break from her career, and then she moved to Düsseldorf to play for KTS Zamek Tarnobrzeg, a Polish club, winning the Champions League in 2018/19 and the Polish championship in 2016.
Players are sometimes forced to move to another location to seek better opportunities or because of personal circumstances. In that case, we have the best ping pong paddle cases made of different styles and materials with adequate padding to protect your paddles.
Career
In table tennis, Han Ying has had an illustrious career that is decorated with multiple awards. Here are some of the outstanding accomplishments she has achieved while playing in major tournaments.
2016 Olympics
Han Ying made her debut in the Olympics in 2016. She helped Germany reach the finals after the Women's Team of Han, Solja Petrissa and Shan Xiaona beat Japan's Ito Mima, Ai Fukuhara and Ishikawa Kasumi in the semifinals. Han and her teammates later won a silver medal after losing to Ding Ning, Li Xiaoxia and Liu Shiwen of China, the winners of the Women's Team.
Han Ying also played in the Women's Singles as the fifth seed but was eliminated after she lost 0-4 to Ding Ning in the quarterfinals. Ding went on to win a gold medal.
2016 ITTF World Tour Grand Finals
Han Ying had already made history in table tennis by becoming the first European and German to reach the World Tour Grand Finals. She came in second by defeating Mima Ito 4-2 at the 2016 ITTF World Tour Grand Finals but lost to Zhu Yuling 0-4 in the Women's Singles. At that time, Zhu Yuling was the most successful Chinese Super League player and was ranked 4th in the world.
2020 ITTF Women's World Cup
Han Ying claimed the fourth position at the 2020 ITTF Women's World Cup which took place at Weihai Nanhai Olympic Sport Centre in China. She defeated Cheng I-ching 4-2 in the quarterfinals, lost to Chen Meng 3-4 in the semifinals and then lost to Mima Ito 0-4 in the finals.
Chen Meng won a gold medal by beating Sun Yingsha who won a silver medal. Mima Ito from Japan won bronze.
2020 Olympics
Han Ying came fourth in the Women's Singles at the 2020 Olympics. She reached the quarterfinals after defeating Singapore's Feng Tianwei 4-1 in the round of 16 and lost to Sun Yingsha 0-3 in the semifinals. Meng Chen won gold, Sun Yingsha won silver and Mima Ito won a bronze medal. In the event.
Ying Han Equipment
Videos
Saki Shibata vs Han Ying | 2019 ITTF Qatar Open Highlights (R32)
Cheng I-Ching vs Han Ying | 2020 ITTF Women's World Cup Highlights (1/4)
Han Ying vs Miu Hirano | 2020 ITTF Hungarian Open Highlights (1/4)
Sofia Polcanova vs Han Ying | 2020 ITTF Women's World Cup Highlights (R16)
Final Thoughts
Han Ying's move to Germany proved to be the right choice for the defensive player who felt she could not get a chance to play at the Olympics in her country of origin because of her style of play. She went on to achieve great recognition and several wins while representing her adopted home country and she has not shown any signs of slowing down.
Han competed in the 2022 European Championship that took place in Munich, Germany. She defeated Kallberg Christina of Sweden in the round of 32 of the Women's Singles event but she was eliminated in the round of 16 after losing to compatriot Winter Sabine.
Ying Han is a high-ranked player in ITTF and one of the most prominent female choppers of our time.